Last Updated on 28 décembre 2021 by videoclubpyrene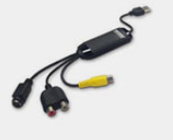 Le logiciel Easy VHS to DVD 3 Plus (ROXIO) permet de numériser vos films en VHS. Il intègre un dispositif de capture fourni, le tout pour 40 € environ. La cassette VHS peut être lue par le camescope ou par un magnétoscope, lui même relié au dispositif de capture ROXIO fourni, lui même relié à votre PC. Si vos cassettes sont au format VHS-C, utilisez plutôt comme source le camescope, ou le magnétoscope avec un adaptateur VHS-C.
Après quelques essais de tâtonnement inévitables, vous obtiendrez des vidéos numériques impérissables (ou presque!).
Voir le site de ROXIO : Easy VHS to DVD 3 Plus . Tout y est détaillé.
Si besoin, demander à François LOUP, qui a expérimenté le système avec succès.